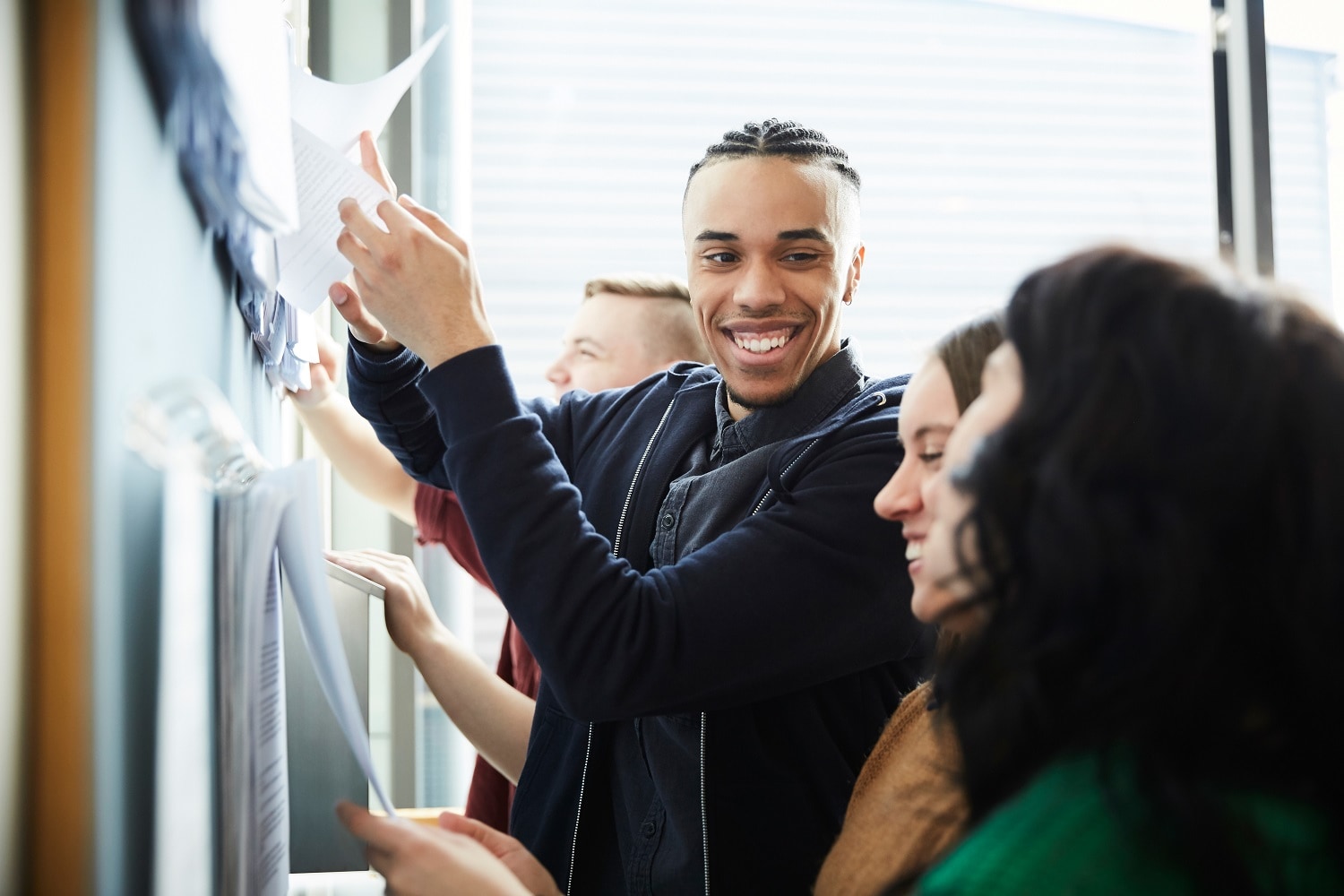 Born between 1997 to 2012, Gen­er­a­tion Z is the most diverse generation in American history. Known for being cre­ative, inclusive and tech-savvy, this generation likes a hands-on approach to learning and places a high importance on education.
Accord­ing to the Pew Research Cen­ter, Gen Z is the least like­ly to drop out of high school and the most like­ly to go to col­lege, com­pared with old­er generations.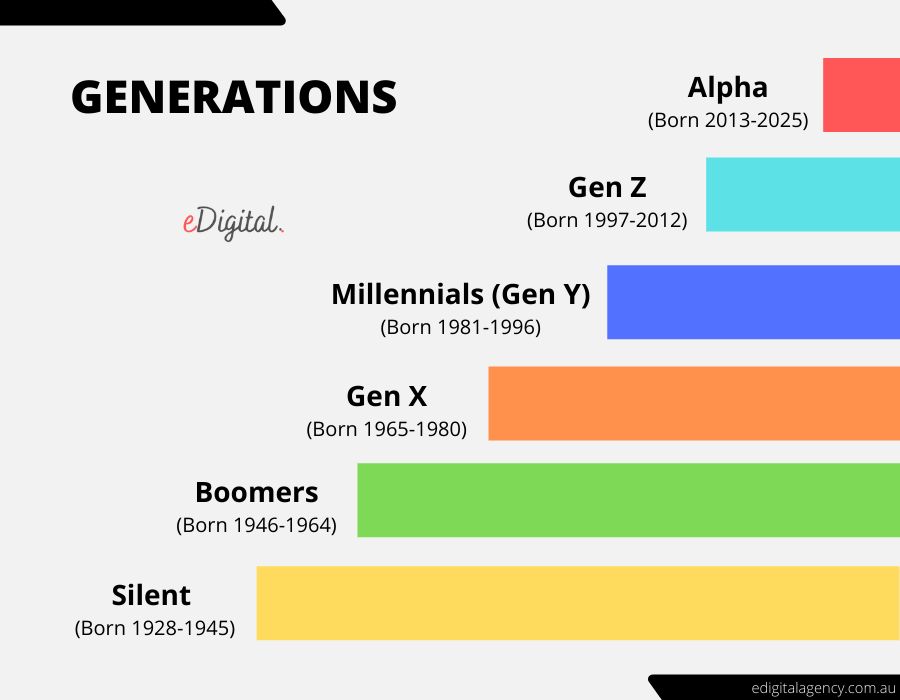 As learners, Gen Z prefers interactive expe­ri­ences over traditional passive learning environments. According to Dr. Karen Freberg, Gen Z is looking for engagement as part of their learning experience. Their embrace of unorthodox learning methods partly stems from the vast adjustments they've made during the pan­dem­ic, as remote learning and new ways of gaining an education became standard.
Not only is Gen Z more likely to go to college, but its members are on track to become the most educated generation yet. This group is motivated to learn new skills, and they have a strong drive to become successful. Based on polling, Gen Z is laser-focused on securing a better future for themselves, possibly as a result of the hardships and uncertainties they've faced in an era defined by the Great Recession, pandemic, climate change, mass shootings, protests over police brutality and other difficulties.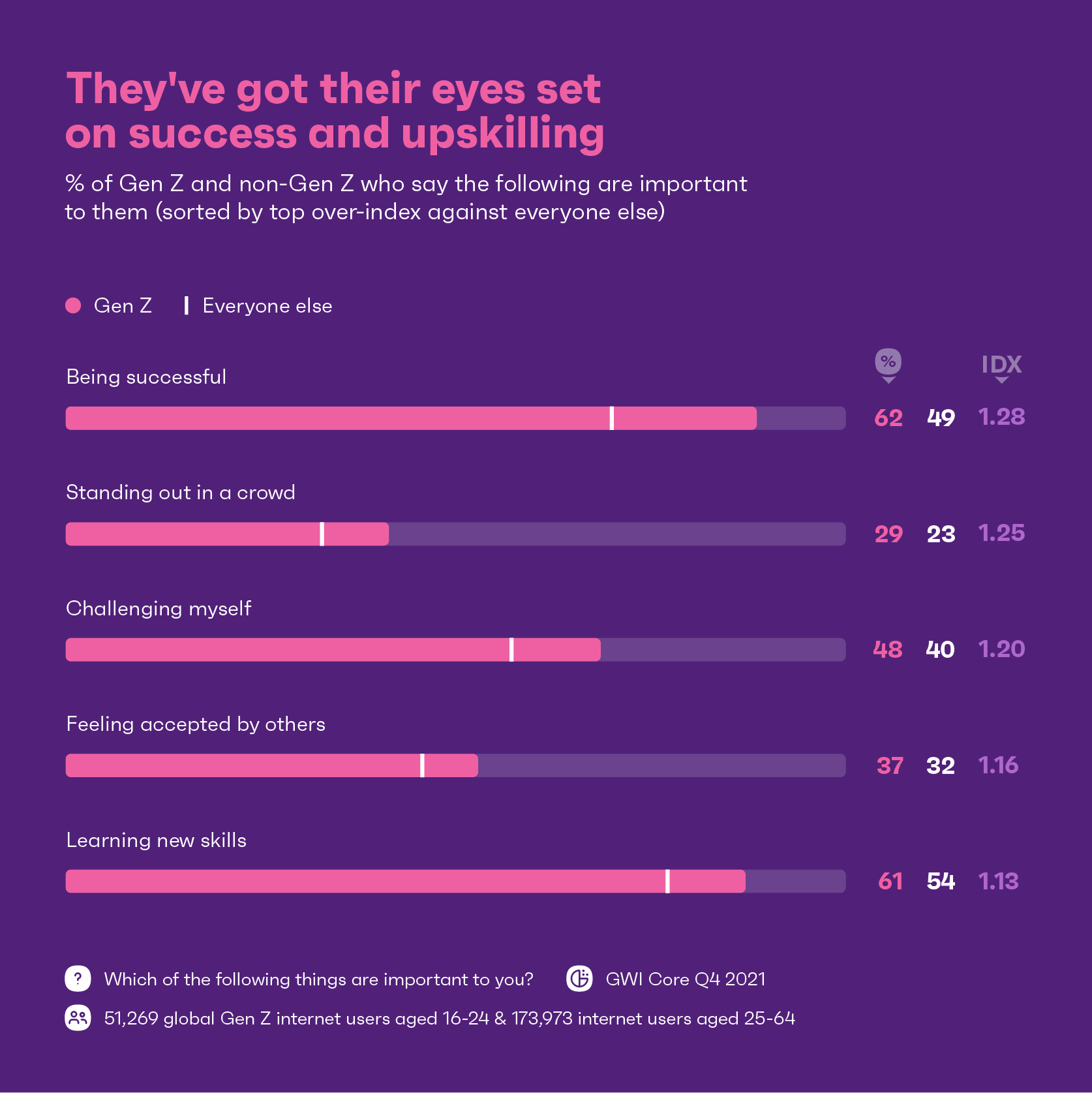 Facing these many uncertainties has made Gen Z resilient, but also more worried about financial security and anxious about the future. They hold quite a bit of the pragmatism and skepticism of their Gen X parents, who they've seen struggle financially through tech and housing market crashes. As a result, one in four Gen Zers describe their feelings about finances as "always stressed," according to a Harris Poll.
So even though Gen Z lists high­er edu­ca­tion as a key issue they care about, they seek it in terms of its value and relevance. This means that their educational choices vary from past generations. There's a shift toward more pragmatic majors such as health, computer science, engineering and biology, with less focus on the humanities. This indicates that Gen Z wants careers that guarantee success and stability in a fast-changing, uncertain world.
In fact, getting a job is the top reason cited by Gen Z for enrollment in college (as shown in the below chart from The Chronicle of Higher Education). This generation is attending college with the expectation of a return on their investment. As such, Gen Z prefers to have services over amenities. Instead of state-of-the-art facilities, Gen Z would rather have access to career development, mentoring, academic advising and internships. A whopping 79 percent say they would like to participate in employer internships as part of their college experience.
Gen Z understands the concept of getting a foot in the door and wants to gain first-hand knowledge. They desire integration between academics and practical experience. According to a study for the book Generation Z Goes to College, nearly 80 percent of Gen Z students said it was important that the undergraduate curriculum include real-world activities. And a recent LinkedIn study shows that Gen Zers want to learn their way up the career ladder.

As students, this generation is great at researching and finding information. They want to learn on their own terms and prefer bite-sized learning. Having grown up in the age of the internet, smart devices and social media, they're accustomed to searching topics of interest for school, DIY projects and other interests. They regularly seek out new information and entertainment and enjoy learning in unorthodox ways, such as from videos on YouTube or TikTok.
To teach Gen Z, flexibility is of utmost importance. This generation wants to be able to apply concepts and gain functional skills when learning. They tend to excel when given more tools and options rather than fewer ways to accomplish a goal. In fact, 72 percent say they want a more customized college experience and prefer colleges that allow them to design their own studies. Programs that allow independent or collaborative work with control over learning options will allow these students to find the right balance.
Are you a Gen Zer looking for a new college experience? Accelerated Pathways is a non-traditional, online college program that gives you the freedom to earn your bachelor's degree your own way. We provide a proven plan to earn an affordable online degree, graduate faster and reach your real-life goals. You'll especially love our self-paced courses that let you study anytime, anywhere. Learn how it works!
read more