4 Reasons to Take Online Courses this Summer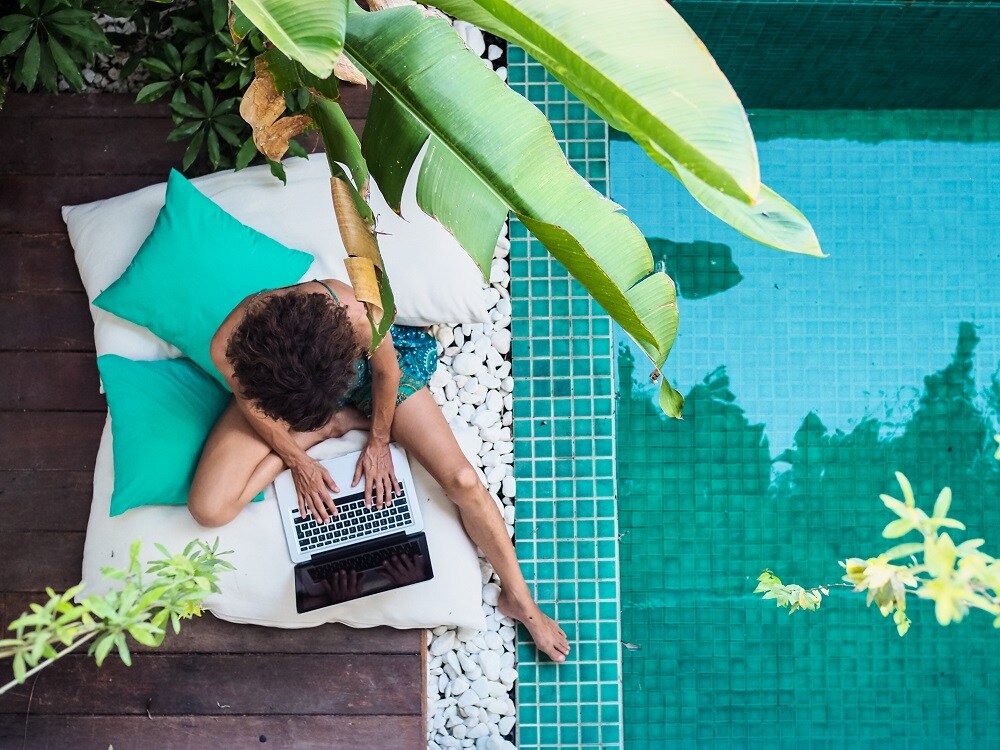 Summer is a time to unwind, enjoy life and reconnect with friends and family. But sometimes all that downtime can lead to ennui—a feeling of listlessness—especially after days of lounging by the pool or getting bored with the same options on your streaming services.
That's why more summer breakers are mixing up their playtime with engaging, productive tasks like learning new skills and taking new courses. Summer can be a great time to catch up on goals you've been wanting to accomplish, and it doesn't have to take away from time relaxing or enjoying the outdoors—especially when you can take online courses anytime, anywhere.
Ready to use some of that vacation time productively? Here are four great reasons to take online courses this summer!
1. Discover pet projects
Summer courses can encourage you to learn new things—perhaps even form a pet project! During summer, you may be exposed to educational opportunities you wouldn't otherwise have the chance to experience. Maybe you'll be traveling to a country with an interesting history and know of a course that will tie into that knowledge. You could even dig into your surroundings to write your assignments on the culture or other aspects of your journey. Perhaps a foreign language course would be the perfect complement to your trip?
Or maybe you'll be working a summer job, internship or volunteer opportunity and know of a course that pairs well with it. This could be a great time to take a computer, web design, digital marketing or even programming course. One recent graduate recommended taking advantage of any opportunity to tie assignments to current events or topics that you're passionate about. She recalled using an Essentials of Speech assignment to practice learning and discussing topics that are business critical to her job role. The knowledge she gained created tons of value in her professional life and made the assignment much more enjoyable.
Summer is a great time to focus on specific topics that are relevant to your summer activities. So why not pair them up and get the most out of your summer experience? By focusing on just a few courses over the summer, you can concentrate on subject matters that stoke your passions.
2. Find your work-life balance
Each person has a different work-life balance that can take years to discover. For younger adults, it can be hard to know how much time to dedicate to work vs. life. The right combination is different for each person. Many older adults find themselves realigning their careers in mid-life after they finally figure out what work-life balance makes them feel healthy and happy.
Summer is a great time to begin to determine this balance for yourself, especially if you have some time off and the flexibility to set your own schedule. You can try out different summer vacation study plans to discover the right balance between relaxing and enriching yourself. Do you find that after an hour of relaxation, you're ready to do something more productive? Make note of those types of feelings.
One summer plan suggests relaxing for two weeks at the beginning of summer, then studying for two hours per day until you figure what works best for you. You can also try a spaced learning approach to switch up topics and give yourself more breaks between study sessions. This can make learning easier and more engaging, especially when you're in vacation mode, by switching up subjects at regular intervals. Keep tweaking your schedule and feeling out what seems like a healthy balance.
It can also be a good idea to take note of your energy level. For example, are you a morning person who is best at concentrating in the first few hours of the day? After lunch, you may feel sluggish or less able to focus on difficult concepts. In this case, you can plan your summer vacation with a couple hours of study in the mornings—maybe at your hotel or a café—and then go out in the afternoon to explore. If you're more of a night person, try the opposite. Or maybe you like to study in little intervals?
Just bring your laptop along and pay attention to what works for you! This will help you figure out the type of work-life balance and routine that you enjoy best.
3. Finish college faster
You'll be amazed at how much faster you can graduate from college just by taking some extra courses over the summer. Even if you take a lighter course load or choose easier courses, it's a great idea to fit in some study time between your summer activities.
By taking summer courses to speed up your graduation date, you not only save time—but money! The longer you spend obtaining your degree, the less time you'll have to start or advance your career and earn more money. In addition, students who finish their degrees early get better selections in the job market, according to Monster.com. Employers look favorably on job candidates who finish their degrees quickly because graduating faster demonstrates good organization, determination and work ethic.
Some college degree programs give you the flexibility to fast-track your degree, in addition to taking summer courses. So if you're wanting to finish college as quickly as possible, look for an accelerated degree program that lets you structure your college experience to complete your general education courses in a compressed format.
4. Keep your learning momentum
Summer days can drift by slowly… and then end abruptly! That feeling can shock your system at the end of summer when it's time to get back to life. It's easy to fall into a lull right around July and start to lose your routine, which can eventually lead to unhealthy habits, unproductive choices or just a slump that makes it difficult to get back into the swing of things.
Figuring out a good study time management routine can be hard to establish, especially for students who are newer to college. It may take a few months to form good study habits. However, if this momentum breaks during the summer months or long vacations, it can be difficult to regain—even for experienced students. That's why taking even one or two courses over the summer can help you keep up a good pace.
A good summer learning plan—with even one or two courses—will help you to maintain some semblance of focus and stimulate your mind in between those spells of partying in the sun. When you return to school after your break, you'll be able to pick back up with no major hitch.
At Accelerated Pathways, we think summer should be a time to have fun… and learning can be a part of that!
Ready to polish up your skills in between sunscreen applications? We make sure you have all the tools, support and flexibility you need to enjoy and succeed in your studies—anytime, anywhere. Make good use of your downtime this summer. Check out our courses and register today!