What Every Parent Should Know About College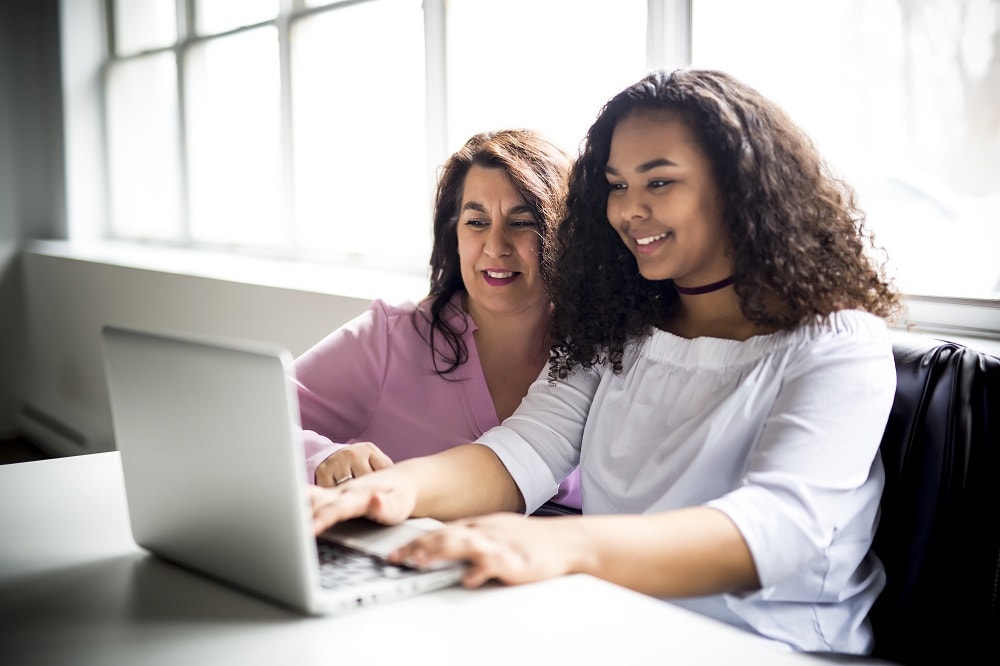 Okay, parents… take a deep breath. We know you're stressed just thinking about prepping your kiddo for college. You've got tons of questions and may not even know where to start.
We're here to help!
We sat down with the experts from our Central Registrar's Office to get the good intel for you. Check out their answers to some of your most frequently asked questions.
How important is choosing a major before going to college?
The sooner your kid can choose, the better.
Students who know their major early on have less chance of switching tracks later (which can end up being a huge time and money sink). Therefore, it's a great idea to have them test out a few majors before starting college.
Students should look for any type of mentorship, internship or job shadowing opportunity available. Not only will this help them test out their ideas about what they want to do, but it can also help them build up experience for their college application. Internships.com can be a great place to start.
Pro tip: Be sure to ask experts in their field specifically about credentials needed to be in that industry.
How do I count the cost of college?
This isn't an easy thing to do. There's housing, tuition, fees, graduation expenses and more. Add on scholarships and other forms of aid, and the process can get confusing very quickly.
The government website college scorecard is a good place to check. It was created to bring transparency to college costs. In addition, every college is required to have its own cost-to-attendance calculator on its website. However, some of these calculators are more accurate than others. Check out other free tools like College Aid Pro and College Data, which can offer alternate ways to calculate costs.
Remember to think through every cost carefully, including:
College application fees

Tuition

Fees (many campus programs have fees for health insurance, shots, bus programs, parking, etc.)

Books

Room & board

Meals

Transportation

Travel expenses

Graduation expenses
Parsing out living expenses can be especially difficult, and this is where most of the unexpected costs can occur, especially for items like wardrobe, toiletries, smart devices, household items and other often overlooked expenses. Try to factor in everything you can think of, including a budget for emergencies.
Could you explain financial aid?
Financial aid can mean scholarships, work-study programs, loans, grants—basically, anything that helps you pay for college. To apply, you'll need to access your tax docs and other financial forms, as much of it correlates to your income and assets.
Be sure to start the financial aid application process early—at least a year prior to your kid starting college.
Here are the types of aid you'll want to check out:
Federal aid
Most students start with FASFA. This stands for Free Application for Federal Student Aid, and it's basically just that—an application for federal aid only. Your tax information will determine eligibility for various levels of federal financial aid. This can include student loans, work-study programs, scholarships, state grants and the Federal Pell Grant.
The Federal Pell Grant is money you don't have to pay back. It's a need-based award, and most low-income households can qualify. There's a College Navigator tool you can use to understand awards based on income levels. StudentAid.gov also has calculations you can use.
Scholarships
Scholarships are a great way to pay for college. Every student should apply, even if they might not qualify. You can find federal scholarships through studentaid.gov; private scholarships through websites like Fastweb.com, scholarships.com or Scholarship America; and university scholarships through each university's website.
There are two basic types of scholarships: merit-based and need-based. Merit-based scholarships are awarded due to your abilities or talents. Need-based scholarships are awarded on your family or socio-economic background, for example, if the student's parents were veterans.
It can take years to build out qualifications for scholarships, so be sure to start looking into them early.
Work-study programs
Work-study programs provide jobs to students, allowing them to earn money to help pay for education. Students can qualify for work-study programs through FASFA, but individual schools may also have their own work-study programs. This can be a great way to earn experience and mitigate college costs, even if it's just working to cover one expense, like room and board.
Tuition assistance from employers
Employer education benefits—also known as tuition assistance programs—are benefits provided by an employer to compensate employees (and sometimes their dependents) for learning. This can be a great way to subsidize education.
On average, companies provide around $6,000 per employee per year. If you have a job, ask if they offer tuition assistance, including for your children. If your kid wants to work during college, they can purposefully seek out companies with good employer education benefits to help cover tuition costs.
How do I prepare my kid for college?
Think of a college application like a resume. Instead of a hiring manager, the application goes before a school review committee. This committee is looking for the right person who will be successful in their program. They're also wondering, "Who's going to make us look good as an institution?" Graduation rates are important to schools, so they want to know who will stay committed.
To prepare your kid for this type of scrutiny, start thinking about meaningful activities they can participate in to build a picture of who they are. Have them take electives in high school that'll match with the degree major they want to apply. Also, think of ways your kid can improve their communication skills. This will help at every stage—from their written application to the interview process and then throughout college.
Of course, the college admissions process differs depending on whether your student is applying to a four-year college, community college, technical school or non-traditional online college like Accelerated Pathways.
How is Accelerated Pathways different?
1. We help you shop for the right college.
We provide all the tools you need to make the most informed and effective college choice possible.
First, we do the college research for you... for free. Our academic counselors are experts at conducting an intensive research process of thousands of schools to find the right college programs that match each student's individual goals and circumstances.
Then, we give you a custom College Options Report. This shows a side-by-side comparison of the colleges and degree programs that best fit your major, schedule, budget, prior credit and more.
You'll be able to compare college options in a way that other institutions don't provide.
2. We find ways to significantly reduce the cost of college.
Did you know that most universities allow you to transfer in up to three years of college credit? We help students maximize this opportunity.
How? By offering low-cost, general education courses that are guaranteed to transfer to your target college. Our courses cost 36% less than the national average and are regionally accredited—the most widely accepted accreditation.
This allows students to earn college credit in an affordable, flexible, online environment and then transfer it seamlessly to their university to finish out their degree.
What's the worst college advice?
When parents say to their kids, "Go to this college because I went there."
We understand this urge but warn parents that it shuts down the student's exercise of thinking through their own academic path. You'll want your kid to figure out the options that best suit their specific life goals. The more they engage in the process of choosing a college, the more likely they'll be to stay committed once they attend.
What's the best college advice?
"When you go to college, go with purpose."
College shouldn't be something that just happens to your kid. That's when all the traps start and they end up unmotivated, in a five-year or longer program, shifting around majors, taking off semesters or even dropping out. That's also how they miss out on opportunities and scholarships—by ending up too late in the process.
Make sure your kid is part of the process of planning, asking for things they want, talking to people, creating relationships and being purposeful about what they're doing.
Need help getting them started? Our academic counselors are experts at working with students at all starting points. Reach out today for a free college consultation!