We Do Your College Research for You… for FREE!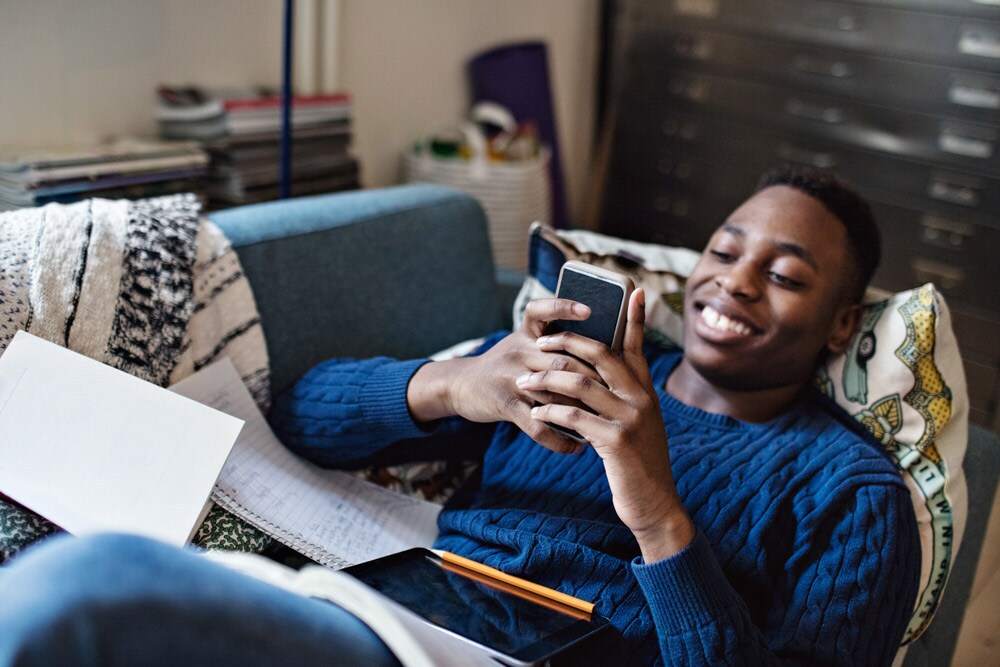 Feeling stressed and overwhelmed by the amount of research needed to attend college? With so many degree options, costs, and requirements for each school, the search process can feel like a never-ending battle with a thousand unanswered questions. Do I meet the admission requirements? How much will it cost? Will my past credits transfer?
Where do I even start?
Take a deep breath because expert help is on the way! At Pearson Accelerated Pathways, we do all the college research for you… for free. Our academic counselors have tons of expertise, resources, and inside knowledge to help you narrow down the best college options based on your specific goals.
We Build a College Options Report – Just for You
Just provide us with some basic info and our academic counselors will reach out to learn more about your situation. Our goal is to gather the most pertinent info needed to determine your best college and degree options. We'll factor in things like:
What majors interest you, or do you want to wait to decide?

How many hours per week you can study?

What do you want out of your college experience?

Have you've already earned any college credits?

If so, where can they transfer?
From there, just sit back and relax as we crunch the numbers on tuitions, degrees, fees, and much more. We'll conduct an intensive college research process based specifically on your data and circumstance, and then you'll get the final results. Your academic counselor will send you a super organized and helpful College Options Report – custom built just for you.
What's a College Options Report?
The College Options Report is a side-by-side degree plan of the best colleges we found to fit your goals, schedule, budget, transferrable credit, and more. The first page will look something like this:
Page 1 (click here to enlarge image)

Your academic counselor will carefully walk you through each page of the report to make sure you understand all of your options. In particular, they'll spend lots of time going over the chart on Page 2 (below), where you'll see a complete breakdown of each school by degree, cost, transferable credit, and more. As you examine this college comparison, you'll be able to consider important factors like:
Which of the degrees can I obtain the fastest?

Which of the schools costs the least?

Which of the options accepts most of my prior credit?

Which degree can I finish completely online?
Page 2 (click here to enlarge)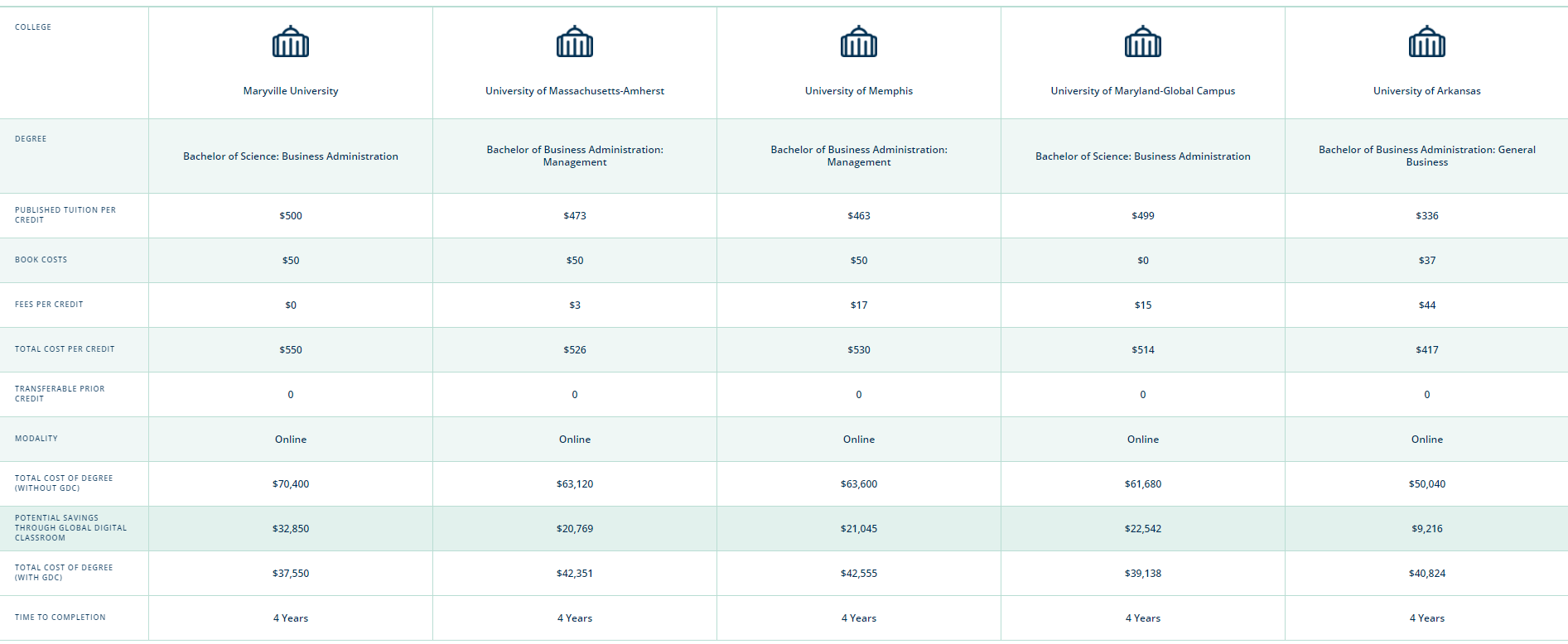 After that, you'll see a page-by-page outline for each college (like in the image below). This gives you an overview of each college by tuition, fees, books, and—most importantly—the potential savings through our Global Digital Classroom (GDC). The GDC is Pearson Accelerated Pathways' online learning platform. It's how we are able to offer you lots of courses at a much lower cost per credit than traditional colleges. The GDC gives you extra freedom to pursue courses that align with your interests while enjoying our cost savings and flexibility. Best of all, GDC courses are fully accredited and guaranteed to transfer to your final college of choice!
Page 3 (click here to enlarge)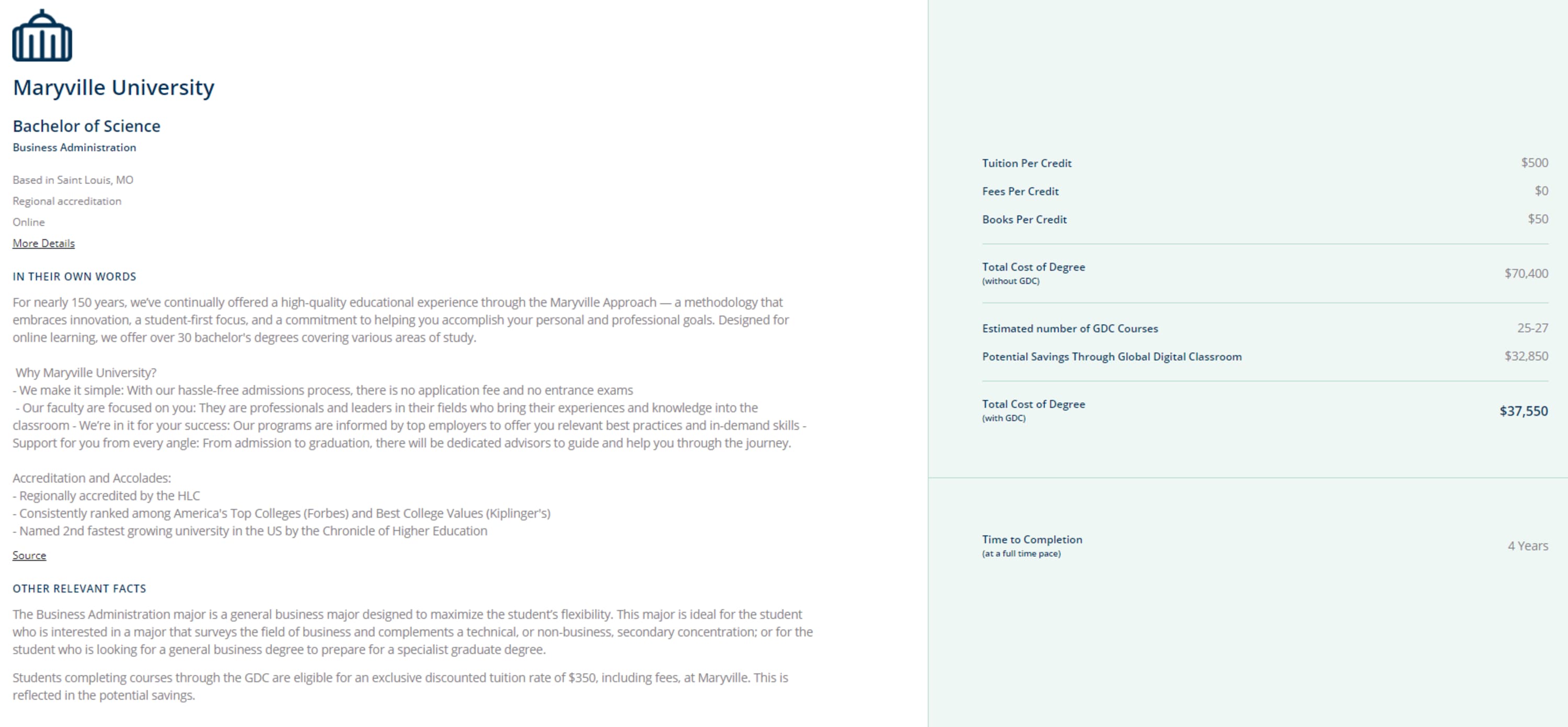 How Does This Help Me?
With the College Options Report, you'll be able to make comparisons based on the most important factors to you. That may be cost, degree, major, college reputation, time to complete, prior credit transfers, or a number of factors combined.
In the above example, let's say you choose to go with Maryville University based on the cost savings. You'll see that we can save you $32,850 on your total degree cost by offering 25-27 courses through our Global Digital Classroom (GDC). This savings also includes the discounted tuition you'll receive at Maryville University for transferring from Pearson Accelerated Pathways. That's a lot of savings – cutting the total cost of your degree almost in half!
In addition, Pearson Accelerated Pathways offers flexible pay-as-you-go plans. Unlike one-size-fits all colleges, we work with your budget to customize payment options. Also unlike traditional colleges, you can get started on online classes right away. No waiting for a semester to begin or working around a set college schedule. We make sure payments and schedules are all on your terms!
We're Here When You're Ready
If you're feeling overwhelmed by the number of choices involved in doing college research, let us help... for absolutely no charge! We love being a guiding light for students in a world of noise and clutter. Our specialty is helping students identify their best college options and setting them on the right education track for their lifestyle, budget, and schedule.
Ready to get your free College Options Report? Get started here!