A Beginner's Guide to the Types of College Degrees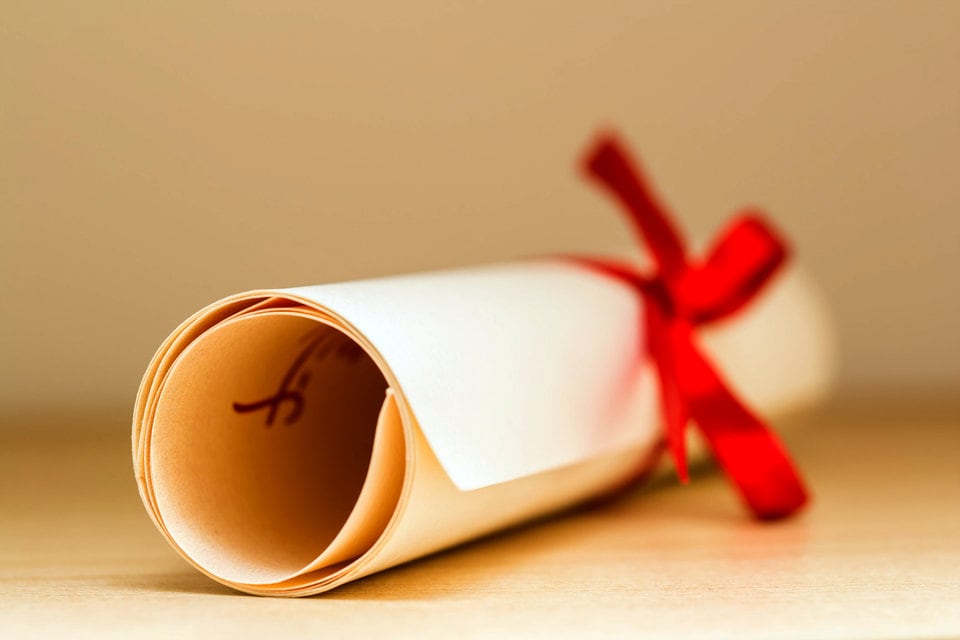 Earning a college degree is a great way to improve your job prospects. In fact, data from the U.S. Bureau of Labor Statistics reports that an advanced level of education can lead to higher wages and lowered unemployment rates. Depending on your career aspirations, you can choose from six different college degrees.
Associate Degree
(Usually 60 credit units)
These degrees usually contain a lot of general education classes, like college math, English, and economics. This is the basic degree that's most commonly offered at community colleges and that historically takes two years to complete.
Bachelor's Degree
(Usually 120 credit units)
These degrees are considered the standard college degree and usually take four years to complete at the rate of 15 credits per semester. The first half of the degree usually overlaps with common associate degree courses, called general education electives. Bachelor's degrees also include more major-related classes and 6 to 27 hours of free electives.
Under the main bachelor's degree category, you have several two-letter codes (sometimes followed by a specialization) that tell you the degree's specialty. Here are a few common ones:
Master's Degree
(Usually 30–50 credit units)
Also called a graduate degree, this degree is the next step after a bachelor's degree. Since a master's degree is usually more specialized, you can't get a master's degree unless you first have a bachelor's degree. Thus if you have a bachelor's degree in business, your master's degree would be in a more detailed topic, like accounting, taxation, or business administration. 
The original idea was that people would earn more and more honors as they got more focused and specialized in one area of study. All master's degrees conveniently start with M. The most common are MBA, MA, MS, and MFA.
Doctoral Degree
(Usually 60 credit units)
PhD stands for Doctor of Philosophy. Almost all schools require a completed master's degree before you can start a PhD. A PhD. means you have conducted significant original research on a certain topic and have written something academic on it (called a dissertation or thesis). 
Before a doctoral degree is awarded, there is usually a review by a group of doctoral peers. In many fields, the PhD is considered a "terminal degree." That means it's the end of the academic line, and you can't get any more training in that field beyond a PhD. A few fields have lower terminal degrees; in law, a Juris Doctor is a terminal degree, and there usually is no PhD.
Professional Degree
(Usually 60–120 credit units)
A professional degree is designed to prepare bachelor's degree holders for work in a specific field. Professional degrees are offered for various industries, such as architecture, landscape architecture, chiropractic, dentistry, engineering, law, pharmacy, medicine, veterinary medicine, and education. Upon completion of the program, graduates are often eligible to pursue accreditations or sit for licensing exams in their fields. Examples of professional degree licenses include medical licenses, law licenses, and pilot's licenses.   
Joint Degree
(Usually 120 or more credit units)
Joint degree programs (sometimes referred to as a double major) are designed for students interested in graduating with two college diplomas. Coursework for both majors is taken simultaneously, which allows graduates to complete both degrees at the same time, as opposed to one after the other. Students who choose a joint degree often take 40 general education credits, 40 credits for their first major, and 40 credits for their second major; however, each institution has its own credit hour requirements. If you're considering a joint degree, be sure to ask your college adviser about the specific requirements for your school. 
Choose a Degree That Fits Your Career Path
Each college has subtle differences, particularly with bachelor's degrees and their requirements. Colleges also have different accreditation policies, depending on what system a school uses. Higher education has also changed a lot in the past few years, so take some time to learn how recent college changes impact your education. 
Recommended Readings:
Sources: