Supportive Supervisors Are Needed Now More than Ever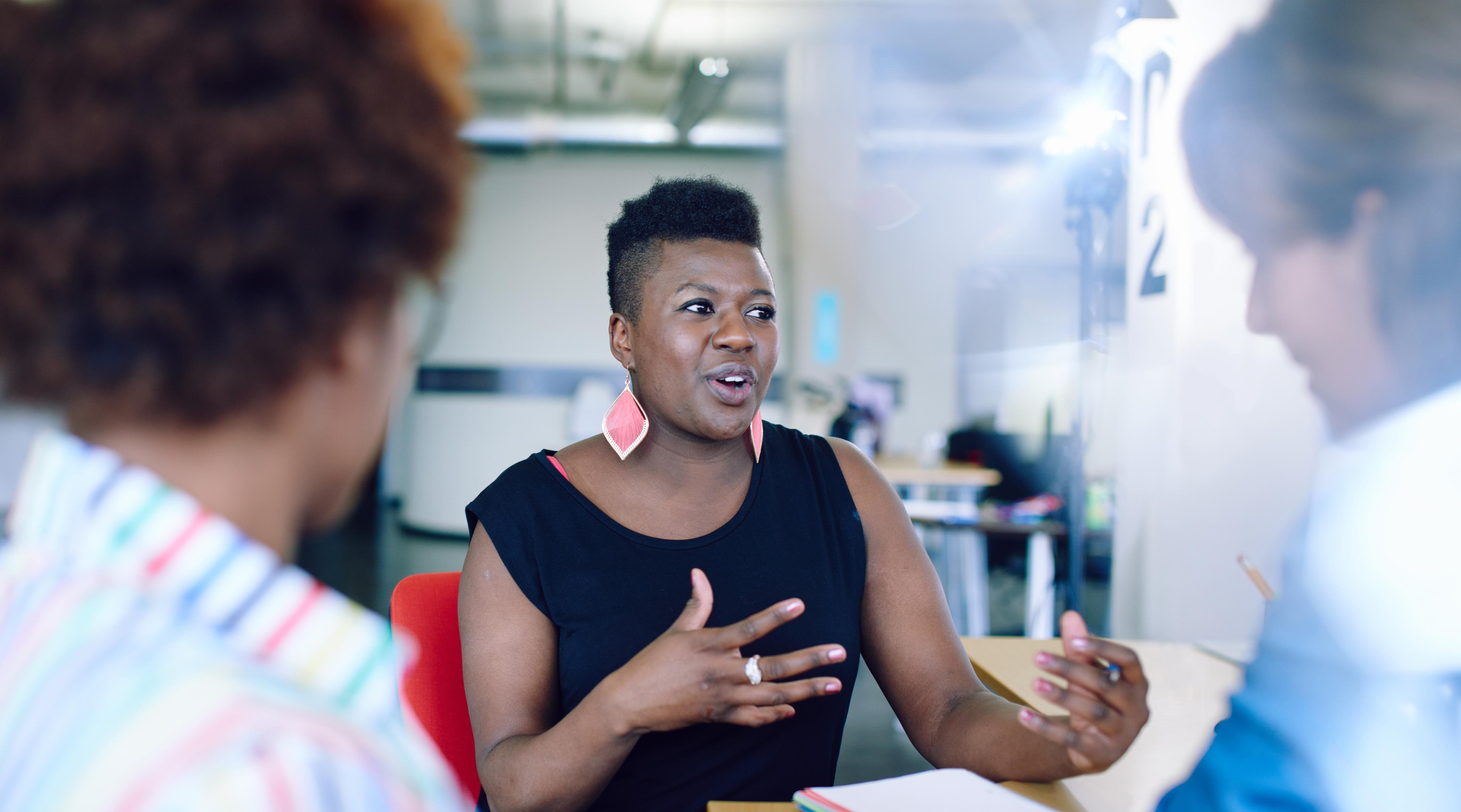 There's a new term being coined for the job era we're in: The Great Resignation. Unlike normal times when people quit their jobs because of a healthy economy and plentiful opportunities in the market, an interesting shift has occurred during the pandemic. As the worst recession in U.S. history set in and millions lost work, those still employed began quitting their jobs in record numbers. Since then, employers have been complaining about acute labor shortages and difficulties retaining employees, particularly those in frontline positions.
Between stagnant wages, skyrocketing costs of living and increasingly dangerous health risks in the workplace, many workers, particularly those in low wage jobs, have been resigning in search of better pay and improved working conditions. Workers have reported feeling exasperation and burnout, and many have stated they're leaving because they don't feel a sense of belonging at their workplace.
In particular, employees from historically marginalized communities are more likely to give this as a reason. According to the American Psychological Association, racism and other forms of discrimination at work are associated with an increase in stress, depression and anxiety. Those from younger generations have also expressed an increase in stress and anxiety in the workplace since the pandemic. The Deloitte Global 2021 Millennial and Gen Z Survey found that approximately 40% of millennials and Gen Zs feel their employers have done a poor job of supporting their well-being during this difficult period.
What can end The Great Resignation?
For most workers, feeling appreciated, compensated and supported goes a long way. So, what can be done to improve workplace conditions to retain employees? Pearson Accelerated Pathways recently sponsored a study conducted by the Social Policy Research Associates to identify successful approaches used by companies to support the advancement of underrepresented frontline workers. Based on interviews and research of best-in-class employers, the study found that a big portion of the answer lies in having supportive leadership. In fact, six of the seven employers interviewed identified supportive supervisors—and in some cases coaches or mentors—as a critical factor in helping frontline workers advance and stay with the business.
What makes supportive supervisors so important?
Supervisors have the first-hand capacity to encourage, inspire and teach others on their team. They also play significant roles as champions (or gatekeepers) in the promotion and advancement process. By considering opportunities for promoting those on their team, supervisors can nurture growth and encourage advancement within an organization. They can also affirm and express their support of employees by educating them about career pathways, encouraging them to participate in education and training opportunities and helping them develop leadership skills.
In fact, workplaces that develop upskilling strategies and foster a culture of learning can also counter implicit bias and create a friendlier workplace, especially for underrepresented workers. By developing opportunities for education and growth, supportive leaders build a sense of community and foster a culture that can acknowledge the struggles frontline workers face and the events that impact marginalized communities. This type of community building is important across an organization, and leaders who foster supportive business environments not only increase productivity, but they also give workers the sense of belonging they desire.
How can I be a supportive supervisor?
There couldn't be a better time to improve your management skills, especially with supportive leaders in short supply. As Forbes puts it, 'When you begin to think of a management position as the ultimate supporting role instead of just another rung on the leadership ladder, you'll begin to find the ways to become the manager your company — and your employees — deserve.'
While there are many approaches to effective leadership, here are a few things we've found most supportive leaders strive to do:
1.      Promote mentorship
Supportive supervisors can help foster mentorships in the workplace through networking, personal connections and even mentorship programs. According to Biz Library, 'A mentoring program can improve employee retention, create more diversity, help plan for the future, and save on costs for other forms of training.' By acting as an advisor or pairing those less experienced with those more experienced, mentors can help others to grow, set goals and develop in the workplace.
One approach is to choose staff with more seniority to mentor newer team members. Senior members feel valued for their knowledge and experience, plus they have a chance to bond with newer teammates. This type of mentorship also allows knowledge to transfer in a way that builds a more successful, productive and collaborative environment. In addition, mentors can offer encouragement to mentees as they work through challenges of the job. Overall, promoting mentorship is a win-win for an organization and a great way to show support as a supervisor – either by participating in or pairing others in mentorships.
2.      Build collaboration
More and more, companies are ditching hierarchical leadership models in favor of collaborative approaches to construct inclusive environments that energize teams, spark creativity and cultivate a positive and productive work culture. Supportive leaders recognize that a united team of talented individuals can make a stronger impact on an organization's success than a single leader alone. On a collaborative team, a manager would not simply delegate tasks and receive results. Instead, supportive leaders work to enact practices that are less directive and inspire people to communicate and interact in new ways.
According to ClearCompany, 97% of employees and supervisors believe lack of alignment within a team impacts the outcome of a task or project. In fact, 86% of employees and supervisors cite lack of collaboration or ineffective communication for workplace failures. By solving problems in a collaborative way, rather than a top-down approach, supportive supervisors can empower employees and ensure that they gain the skills to handle problems with minimal supervision.
3.      Connect others with resources and opportunities
Part of your focus as a supportive supervisor is to connect people to resources that help them gain skills and succeed in the future. Supervisors are frequently asked, 'What do I need to do to get to the next level?' In addition to helping set up workplace supports like healthcare and childcare, offering educational opportunities as a benefit is an excellent way to invest in employees, especially frontline workers who may have struggled to complete high school or college.
According to the Working Learners Index, 90% of employees say they would stay with their employer if education was offered as a benefit. ​Supportive leaders understand that most employees want to continue learning and growing to keep up with job market demand. ​​Making employee growth and learning part of your strategic plan can result in your entire organizational culture valuing employee development and learning. By providing frontline workers with opportunities to learn, supportive leaders can deliver improved results not just for the organization but for the community as a whole. 
4.      Continue learning
A degree in management or business may prepare you to understand business operations, financial analysis and other technical aspects of business, but it's also important to work at developing soft skills that will benefit your role as a leader, like communication, approachability, empathy and adaptability. An effective leader seeks out feedback and looks for ways to grow both personally and professionally. To sharpen your soft skills, you can practice by engaging and socializing with people in various scenarios or by taking supplementary management training courses.
It also helps to network with peers in the leadership community either in-person or online. There are book groups for leaders to share great reads as well as support groups to share problems encountered by those in leadership roles and receive sound first-hand advice. Asking for help and seeking input is valid even when you think you're expected to have all the answers. To support others, it always helps to have your own support system in place.
The Aspen Institute recently reported that 59% of organizations don't measure or reward managers for advancing frontline workers. As businesses continue to look for ways to nurture and retain talent, they'll need to recognize the importance of having supportive managers and supervisors who build positive workplace communities and reward employee development. At Pearson Accelerated Pathways, we not only help business leaders support and invest in their workforce through employee upskilling, engagement and advancement, we also help organizations track and reward internal development. We give leaders the tools they need to promote educational benefits, support employee goals and show how they're driving business objectives forward. Find out how to leverage education as a strategy to retain and future-proof your workforce.