In-House vs. Outsourced Training – Which Is Better?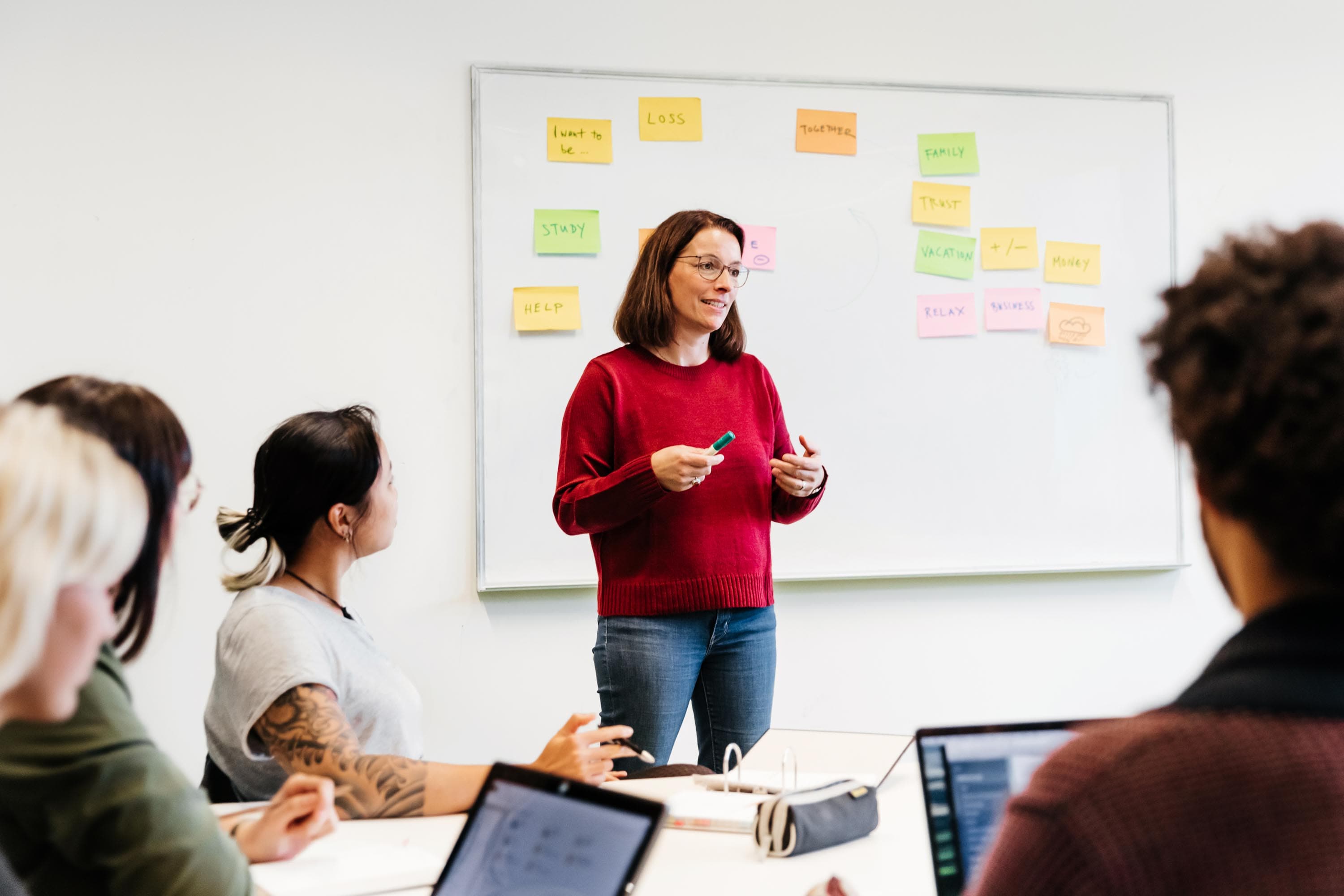 HR professionals know the struggle of selecting and organizing training for an entire staff of employees. There are tons of factors to consider in attempting to maximize and allocate a learning & development (L&D) budget. At the top of the list is choosing whether it's better to provide training in-house or through an external education partner.
As more companies look to stay competitive by upskilling and reskilling employees, it's worthwhile to consider the advantages and disadvantages of the different skill development approaches. The decision to train in-house vs. outsource is more important than many realize as it can affect the future growth and success of an organization. So, let's give it some careful consideration.
In-house Training
In-house or on-the-job training is the most common type of directly provided training offered by employers because it can easily be blended into tasks workers already carry out as part of their jobs. This type of training can be applied to onboarding, provided throughout a worker's tenure or delivered for specific occupation transitions. Organizations that develop in-house training programs typically have an internal team dedicated to development, for example, an apprenticeship program that combines classroom training provided by senior staff.
Pros
Specific: In-house training is delivered by people who know your company and its needs. Training will be relevant to your specific requirements and in compliance with your internal strategy, corporate goals, market positioning and even branding. Plus, an in-house training team has a greater interest in the final program outcome and success of the company.
Customizable: When training is provided in-house, it's customizable at the local level. This means the syllabus can target exact requests for learning and foster knowledge transfer between employees. There's greater control over development and changes/updates can be quickly adapted.
Confidential: In-house development avoids sharing confidential data with an external company. You won't have to provide proprietary data to outside training designers, courseware developers, educators and other potential hazards to intellectual property and cybersecurity protocols.
Cons
Not employee-centric: In-house training is usually company-specific and doesn't provide employees with the types of flexible degree and certificate programs they seek to advance their careers. Their learning will be limited to the company knowledge base, which may result in a lack of innovation and fresh ideas for the company and its ability to stay competitive in the marketplace.
Expensive: Although some believe in-house L&D is cheaper to administer, others find it to be more expensive. For organizations without an in-house L&D team, hiring a development team can be costly as it requires new software, authoring tools, studio environments, etc. These tools and licensing fees come with a high price tag, so building your own Learning Management System on a tight budget may not be the best idea.
Time-intensive: In-house learning and development require lots of time to plan, approve and deliver, not to mention the efforts required to train and maintain a team of project managers, instructional designers, courseware developers, trainers and more. Some organizations simply don't have the resources or budget required to produce good results.
Outsourced Education
Many employers work with educational institutions or partners to develop programs specific to their needs or to offer training for high school completion programs, English-language training programs, higher education degrees and more. These types of programs help workers advance to jobs higher on career ladders and/or to enroll in postsecondary education programs. This skill-building strategy can also involve employers covering the costs (either fully or partially) of programs provided by education and training institutions, either online or onsite at those institutions' locations.
Pros
Expertise: With an external education partner, you'll have access to their client services, expert trainers, academic advisors and other higher education experts. They'll have a fully developed learning platform that may be customizable to your specific learning needs. In addition, they may be able to integrate your training into a Learning Management System that allows you to track who is taking your courses, who has completed your courses, which skill gaps are being filled and other useful data.
Fresh perspectives: The workplace is ever-changing, and training is necessary to keep pace. Even the best in-house training programs can quickly become outdated when trying to keep up with changes in the industry. External educational institutions have experts and insiders who stay current on changes in automation and technology, especially as work becomes increasingly remote and digital. They'll have course offerings based on the latest advancements and forecasts into the future of work that can give your employees fresh perspectives and insights your internal staff may lack.
Recruitment & retention: Education benefits are becoming one of the most popular workplace perks. As college costs have skyrocketed in the U.S., so has the popularity of education benefits like tuition reimbursement, tuition assistance and employer-sponsored scholarships. More than ever, job seekers are looking for companies with great education benefits that will help them advance in their careers and invest in their futures. By partnering with an education institution, your company can offer the kind of official certifications and degree programs that appeal to employees. In turn, this will allow you to retain and advance your workers as they upskill, reskill and complete their education programs.
Cons
Onboarding: Outsourcing involves taking time to onboard a new partner and get them up to speed on projects and goals that align with your company's mission and needs. You'll have to dedicate more time to teaching an external team who isn't familiar with your business products, services and model.
Disconnect: With an external partner, you may experience less collaboration and more physical distance, which can lead to a disconnect between what you want vs. what is provided. It'll be important to do your homework and ensure the educational partner you choose is dedicated to your mission.
Non-specific training: While external education institutions can offer a broader range of learning programs, they may not be focused on the specific subjects and skills that are relevant to your business. Their courses may be too generic and unable to address your company's issues using real-life examples. That means employees may not learn how to solve specific work problems that relate directly to their roles.
__
As you can see, you'll need to make some tough decisions in determining whether it's better to develop and administer your own training programs in-house or to bring in an outside company. Ultimately, if you only need to train employees to address a few isolated, well-defined skills, it makes sense to develop your own programs in-house. If you're looking for a robust educational offering and the ability to offer tuition assistance as a benefit, then an external education partner will likely be your best bet.
Keep in mind, training is only effective when it is both an investment and a commitment made by the company. At Pearson Accelerated Pathways, we help you make the most of your L&D budget by keeping your training consistent and focused on your company's needs. We have the products, platforms, expertise and relationships to design, implement and manage an ecosystem of pathways and services to support your talent and fill your skills gap. Find out how we can help you build a more dynamic, future-proof workforce through state-of-the-art training and education programs.