Finish Your Degree Early with Non-Semester College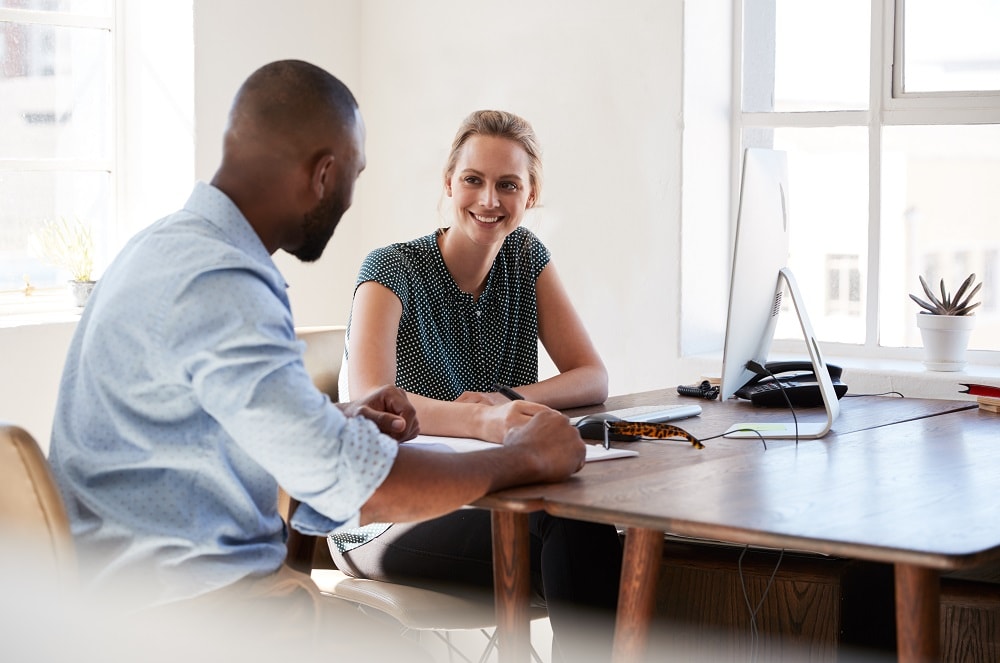 Meet Roland

Roland is a 32-year-old father of three young girls and the Operations Supervisor for the New York Public Transit facilities. Currently, he's managing the facility and maintenance staff for two boroughs in NYC: Manhattan and Queens. Although he's never completed his bachelor's degree, he loves his job and has made it this far in his career by being a go-getter and a hard worker.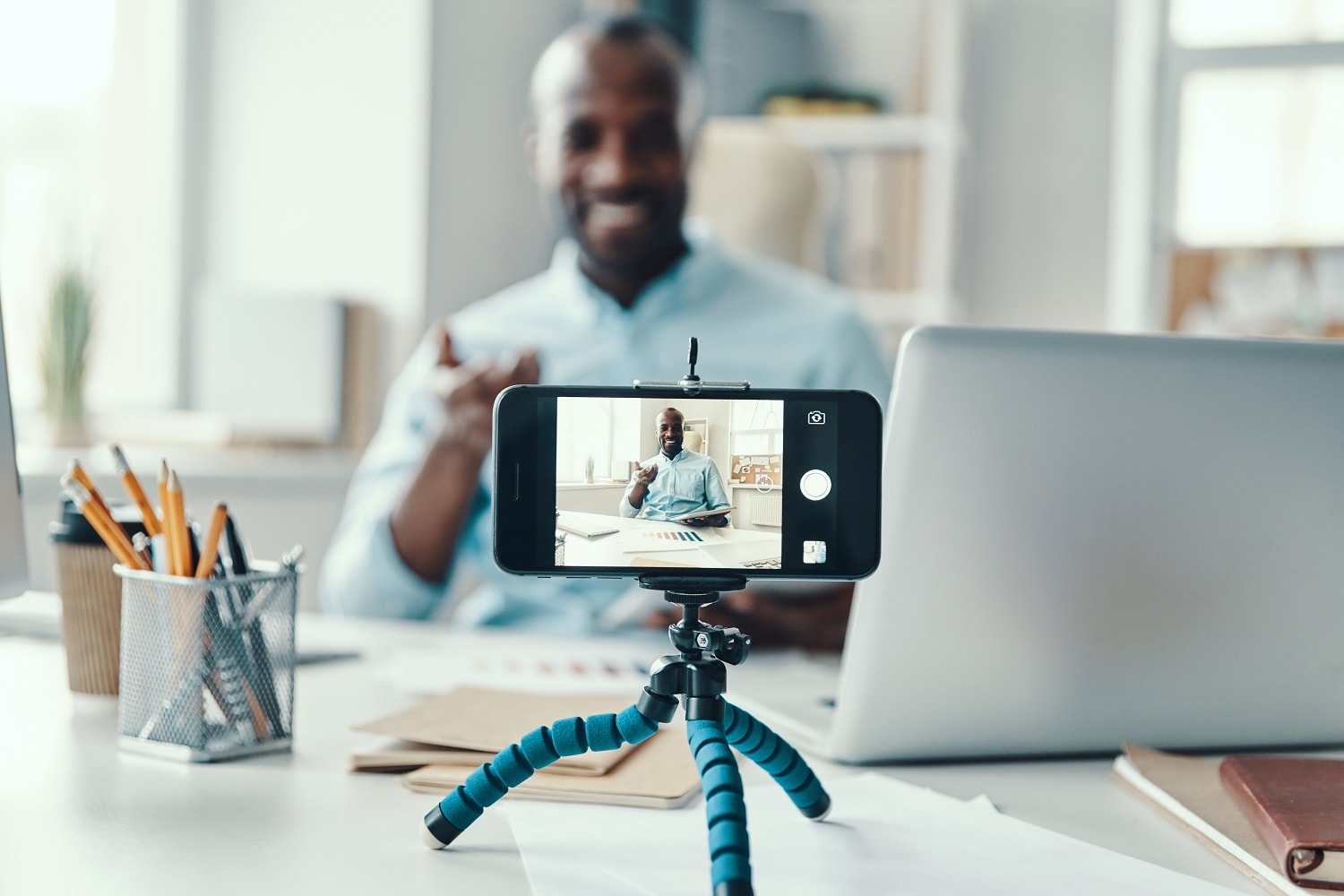 But now he's hit a bump in the road.
His boss is retiring in a year, and Roland is up for an Associate Director promotion that earns almost double his current salary. To qualify, he'll need to complete his bachelor's degree as quickly as possible to "look good on paper." The company knows how hard Roland works, but without meeting the education qualifications for the promotion, he'll be surpassed by someone with less experience.
Fortunately, Roland already has 42 college credits that he's earned over the past 10 years. His prior credits come from different places including a trade school, a community college, and The City University of New York (CUNY). While he enjoys learning, Roland has always encountered difficulty finishing his degree at in-person schools. It seems every time he got started, life got in the way: his wife got pregnant and sick, they moved to be closer to family, Covid started, etc.
Now he understands what it'll take for him to complete his degree as fast as possible.
This is Roland's wish list:
He needs to be able to start school right away (no traditional college semesters)

All courses have to be offered completely online (not in-person)

He must be able to take courses during downtime at his job (no set class times)

His college must accept as much of his previous credit as possible (no tight transfer restrictions)
Time to call in the experts!
To fulfill these requirements, Roland turned to the academic counselors at Pearson Accelerated Pathways, trusting their expertise in finding degree paths with freedom and flexibility. By gathering his transcripts from each school, Roland was able to help his academic counselor to review his prior credits and see where they could transfer. Although Roland's previous studies mostly focused on engineering and architecture, he also had a good deal of general education credits completed.
Roland now wants to major in Business or Project Management to better fit the promotion qualifications at his job. His academic counselor was able to sort through thousands of possibilities and narrow down five degree options in a side-by-side college options report customized to show Roland the degrees that would best fit his wish list. Here's a preview of three of the six colleges they reviewed.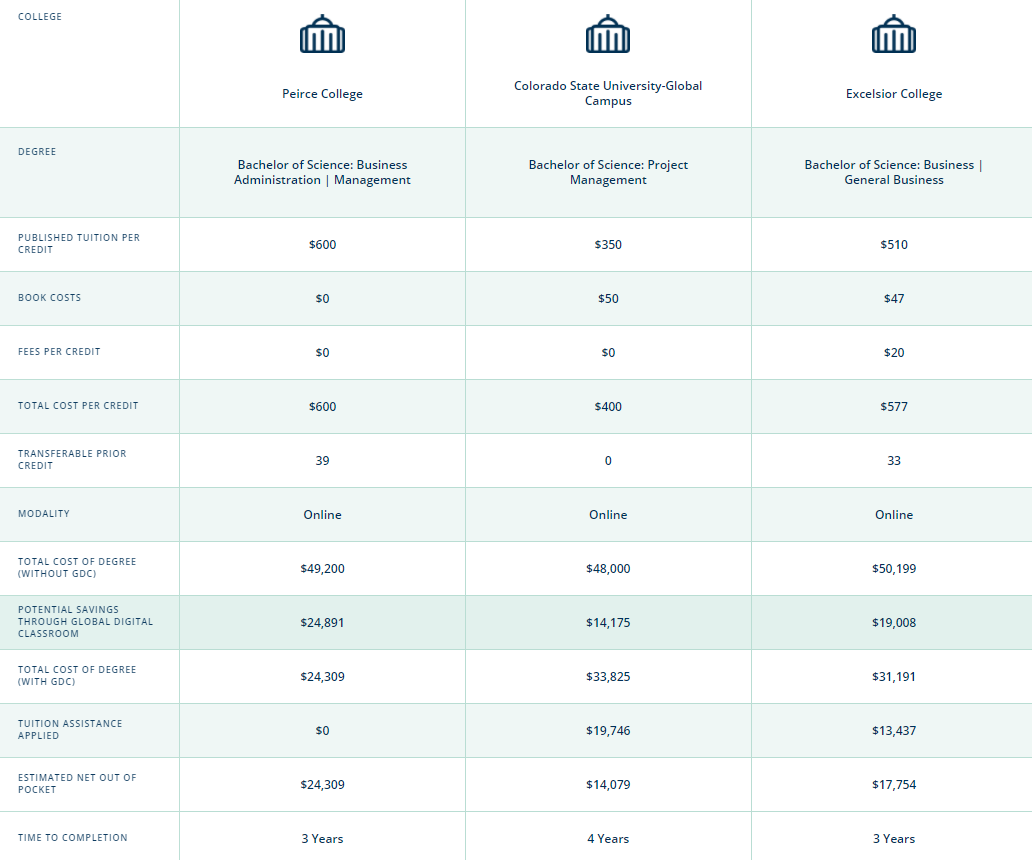 After going over the best options with his academic counselor, Roland chose Excelsior College based on a combined factor of price and prior credit acceptance. He was able to start courses right away, and with tons of hard work, determination, success coaching, and tips on staying sane while working full time in college, Roland exceeded his completion date and earned his bachelor's degree in under two years!
As a result, Roland has fully qualified for the promotion to Associate Director at his job and no longer has to worry about hitting a glass ceiling or feeling like his lack of a degree will hold him back from future promotions. He also gained a solid foundation in budgeting, planning, business operations, and management from his degree that will be beneficial as he moves into upper management. Congrats, Roland!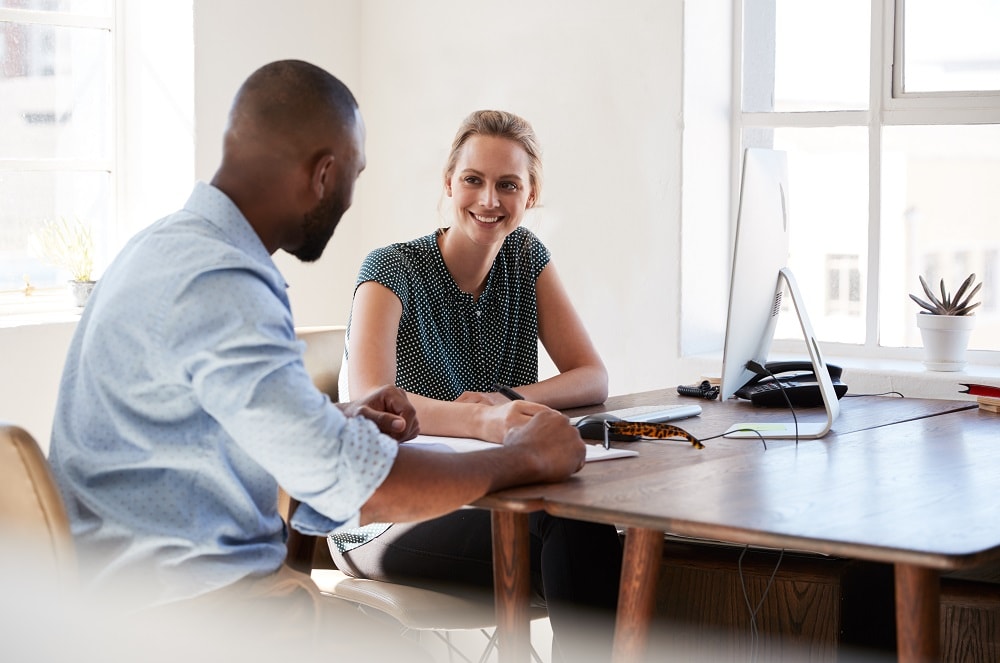 It's Not Too Late to Go Back to College
Feeling stuck in your career because you still haven't finished your degree? You're not alone. According to a Pew Research study, 35 percent of workers say they don't feel they have the education and training needed to get ahead at work. They're not wrong either. In fact, there are 57 percent more job opportunities for those with college degrees than without.
That's why we've developed a new way for workers to experience college. By providing flexible start dates and self-paced learning options, Pearson Accelerated Pathways has helped thousands of busy adults and parents get ahead in their career by finishing their degree while they work. Unlike traditional universities, we allow you to start learning right away – not on a rigid semester schedule.
Our flexible online courses can be started anytime, anywhere—even from your job—and with no assignment due dates. You can learn, complete quizzes, and even take tests according to your schedule. With loads of success stories from working adults and parents, our goal is always to help you earn your degree and move up the ladder to your brightest future.
Ready to join our success stories?
Don't get held back at your job or surpassed by someone who has less experience than you but more education. By demonstrating a willingness to take steps to move up at your job, including expanding your education, management will begin to view you as a prime candidate for greater responsibility and pay. It's never too late to take the initiative and finish your degree. With non-semester learning schedules, we've helped thousands of busy people just like you earn their degree while working and raising families. Click here to learn more about how we can help!