5 Emerging Careers with Excellent Earning Potential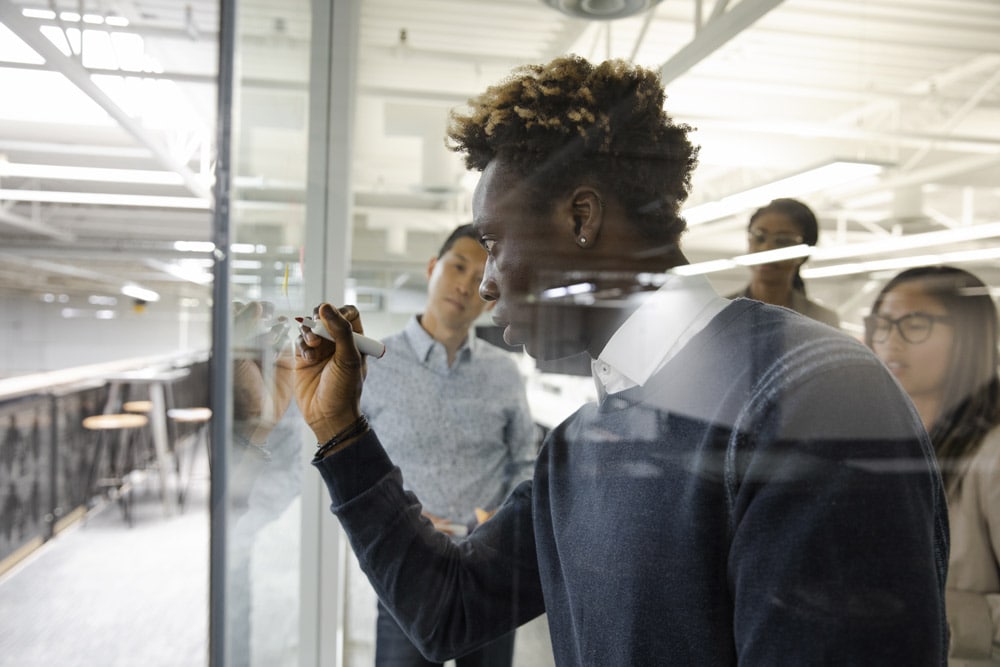 Before making any career decision, it's always a good idea to ask yourself, "Will this career be in demand? And if so, how much can I earn and what education will I need?" With thousands of options available, it can be difficult to narrow down a career path that's right for you. Fortunately, we've compiled a list of five careers that have great demand and excellent earning potential. We hope this will help you on your educational journey and increase your chances of making a good career decision.
1. Cyber security
Did you know the unemployment rate for cyber security professionals has been 0% since 2016! As more businesses rely on data and as cyberattacks become more frequent, demand for cyber security expertise is projected to grow 32% up to 2028, compared with growth of 12% for other computer occupations.
Cyber security encompasses everything that relates to the protection of data and networks. Employment can be found in a wide range of industries and focuses on a number of specialties. Information security analysts plan and carry out security measures; forensic roles deal with the aftermath of data breaches; penetration testers identify vulnerabilities to help prevent breaches; security architects establish and maintain network security; and the CIO sits at the top tier of the industry, overseeing all of this.
For each career pathway there's a lot of technical knowledge and many certifications to acquire to demonstrate mastery, so it's best for aspiring cyber-crime fighters to research each specialty early and get on track for the role that best fits their skillset and goals.
Here are a few specialties and their earning potential:
Information security analyst ($51K-$108K)

Forensic computer analyst ($49K-$118K)

Penetration & vulnerability tester ($58K-$136K)

Cyber security architect ($86K-$160K)

Chief information security officer ($106K-$200K+)
Study options available
Most entry-level cyber security positions require only an undergraduate degree (which degree may not matter if you have the right skills and certifications), but a graduate degree will open the door to more senior positions and quicker advancement. Increasingly, schools are offering degree programs specific to cyber security that students can pursue rather than the more broad computer science.
No matter what degree a candidate boasts, their prospects may be further improved by adding professional certifications to their résumé. In fact, many job postings will require that prospects come to the table with at least a foundational certification or will ask employees to acquire further credentials for career development.
Here's some insider advice from Charles Poff, CISO, Salespoint, "Anyone interested in cybersecurity needs to get a degree, as going to college helps you to learn how to learn. No one in IT or security has all the answers, but what defines us as IT and security folks is how we figure out problems. You learn how to become a lifelong learner in college and develop new skills on the job as you fine tune your natural gifts."
Interested in this promising career? Check out our Cyber Security fact sheet.
2. Internet of Things
The demand for smart devices increased 16% in 2020, and with it the need for Internet of Things expertise in consumer electronics, transportation, manufacturing, utilities, agriculture, and healthcare has grown. Bachelor's degrees in the subject are only just starting to be introduced, but there are other programs and skills that can lead to success in this career.
The IoT is the network of physical objects that are embedded with sensors or software to connect and exchange data with the internet. This includes products such as wearable fitness trackers, home automation devices, self-driving cars, and much more. The demand for these devices is staggering, with an estimated 35 billion devices connected worldwide in 2021—a 16% increase in just one year. Although investment and development may have slowed during quarantine, COVID-19 is set to spark further growth. More time at home means more people connecting their homes for health, wellness, and efficiency, and the healthcare industry is leveraging smart tech for tasks like early detection and contact tracing.
While the IoT demands a specialized skill set, career potential in the field covers a wide range of options since it is not an insular industry. It fulfills the demands of other distinct industries, opening up job prospects in IoT sectors of consumer electronics, transportation, manufacturing, utilities, agriculture, and healthcare.
Here are a few specialties and their earning potential:
IoT developer ($59K-$74K)

Data scientist ($67K-$135K)

IoT solutions engineer ($80K-$120K)

IoT architect ($98K-$190K)

Cyber security engineer ($94K-$320K)
Study options available
While there are only a couple US colleges offering a bachelor's degree specific to IoT, the rise in options internationally indicates that number will likely increase soon. In the meantime, for many entry-level roles, a bachelor's in information technology, computer science/engineering, or software development may suffice.
Learners can set themselves up for IoT job success by researching the competencies expected by their dream employers and planning their course work accordingly. Master's degrees, micro-masters, and graduate certificates specific to the IoT are increasingly common. These programs may go by alternate labels such as "embedded systems" or "cyber-physical systems". At all levels (engineers and architects in particular), professional certifications may be a requirement.
Here's some insider advice from Home Security List, "Without a doubt, the versatile nature of the IoT is one of the numerous reasons it is due to add such significant value to the economy. IoT devices can be implemented in every industry, through adoption, development or both. In this respect, you should learn to collaborate with people from distinct sectors. Make sure your training is diverse so that you can apply it to numerous businesses."
Interested in this promising career? Check out our Internet of Things fact sheet.
3. Diversity & Inclusion
In the past few years there's been a growing demand for equality and representation. As a result, more companies are championing the need for diversity and inclusion (D&I) in the workplace and hiring specialists to help them meet that need. In a 2018 column for Inclusion at Work, Jennifer Kim noted that taking on a D&I role comes with significant risk, as they're often the first cut in an economic downturn. This prediction held true at the onset of COVID-19 when job postings plummeted. However, just months later, the US saw widespread civil rights protests in the wake of George Floyd's death, and D&I job postings did a quick about-face.
There's hope right now that roles supporting D&I are newly focused on action over awareness. Examples include GE, which pledged $10 million toward racial justice and inclusivity initiatives, and Salesforce, which committed to increasing Black representation, especially in leadership. The rebounding of job postings is also a positive sign of change. Each of the roles included below supports employers' mission of attracting, developing, retaining, and supporting the advancement of a diverse workforce.
Here are a few specialties and their earning potential:
Chief diversity officer ($75K-$211K)

D&I director ($89K-$120K)

D&I manager ($55K-$124K)

D&I specialist ($46K-$118K)

D&I coordinator ($25K-$102K)
Study options available
Options for a degree specific to D&I are limited, but available. Some institutions, such as Tufts University and The University of Kansas, have developed master's degrees in D&I leadership. However, most D&I job applicants come from a wide range of backgrounds. Some studied and worked in business or human resources management, choosing to specialize along the way. Some transitioned from other areas of their organization, driven by passion and seeing the need for this role. For them and others, there is a proliferation of graduate certificate and online course options that support D&I development.
It's worth noting that while education demands are high for these roles (45.6% hold master's degrees), transferable skills and a demonstrable interest in social justice should not be discounted as qualifying factors. A number of institutions, such as Emporia State University, offer interdisciplinary degrees in subjects like ethnic, gender, and identity studies that will give candidates a social science foundation and help them stand out in the hiring process
Here's some insider advice from the Allison Dingler, Global DI&B Program Manager, Indeed, "My number one advice for folks looking to get into diversity, inclusion, and belonging (DI&B) is to look at what they can do right now, within their sphere of influence, to create an inclusive culture. DI&B is a vast field, needing a multitude of skills and backgrounds. Consider how your skills translate to DI&B work and start doing that work before you ever have a DI&B title."
Interested in this promising career? Check out our diversity & inclusion fact sheet.
4. Wine and beer
The wine and beer industries are not new. People have been studying the production and use of fermented beverages for thousands of years. Throughout much of that time, education came through apprenticeship and then certification. Historically, the wine and beer industries have been the domain of families and smaller communities. Now, with a myriad of options for self-education, winemaking and brewing have become accessible to a broader group, and many are turning this passion into a career.
Universities are starting to offer degrees to expand the possibilities for job candidates in these industries. Most who seek careers in beer and wine are driven by passion. While some start young — either in the labor-intensive lower tiers of the industry or by seeking formal training right away — others are career-changers looking to turn their hobby into a profession.
Earnings that follow can vary greatly. Working for a small winery or craft brewery is not going to net as much as working for a major brand, but as health and sustainability trends move consumers toward quality over quantity, the number of boutique producers entering the market is increasing. More new producers means more opportunities for those open to both the uncertainty and potential of a start-up.
Here are a few specialties and their earning potential:
Winemaker ($85K-$150K)

Sommelier ($55K-$155K)

Vineyard manager ($50K-$85K)

Brewmaster ($40K-$100K)
Study options available
There are many ways to specialize in the wine and beer industries, and expectations for applicants' experience and background will vary. Those willing to start at the lowest tier of wine and beer work—in the field or in the cellar—will learn a lot on the job. At the business and sales end, industry knowledge is crucial, but traditional degrees often suffice.
Those looking to specialize as brewmasters, enologists, or sommeliers, however, are going to need certifications and proven dedication to understanding the science, taste, and history of their product. University degrees are increasingly a way to gain the necessary academic foundation. There are numerous bachelors and a few masters options in the US, and even some PhDs for those willing to go international.
Here's some insider advice from Teri Fahrendorf, "My hunch is that as time goes on, the educational requirements of microbrewers in the US will increase, if for no other reason than that the demand will increase. One microbrewery owner I spoke with recently declared he will never again hire another brewer without formal training... or a lot of experience."
Interested in this promising career? Check out our wine and beer fact sheet.
5. Data science
Data is everywhere and in everything we do, and with humans producing 2.5 quintillion bytes of data every day, the need for data scientists is rising. The high demand for this role makes it a competitive field that requires intensive education and skills. Love it or fear it, big data is everywhere, and it's about more than just serving up unnervingly targeted ads. In addition to shaping the retail industry, big data is a cornerstone of healthcare, banking, agriculture, government, transportation, and energy. It's estimated that humans produce 2.5 quintillion bytes of data daily. That figure is only going up, which has led to the growing demand for data scientists.
As with any young industry, the job description for a data scientist can be vague and may vary greatly by industry or company. Generally, data scientists have mixed expertise in computer science, mathematics, and trend spotting. They're needed to create algorithms, identify trends, organize data, produce insights that drive business decisions, and design machines that can automate output based on data. "Data scientist" has held the top spot on Glassdoor's list of "50 Best Jobs in America" since 2016 and remains in high demand with continued projected growth.
Here are a few specialties and their earning potential:
Data analyst ($44K-$86K)

Data architect ($77K-$156K)

Data engineer ($65K-$132K)

Statistician ($52K-$109K)

Machine learning engineer ($76K-$154K)
Study options available
Compared to other emerging careers, data science has fairly rigorous academic requirements for entry. A competitive field means employers can make higher demands for education, and the array of technical skills required will demand intensive study, whether formal or informal. A good starting point is a bachelor's degree in computer science, mathematics, IT, or statistics. Increasingly, degrees specific to data science are available as well. This also goes for master's degrees, which are held by 73% of professionals in the field. As many as 38% have a PhD. However, those with a more mixed background still have a chance.
Since the field is new, many of its leaders didn't have today's focused degree options. Applicants may stand out if they can demonstrate that they've supplemented coursework with real-world projects, if they have additional expertise in the job's broader industry (i.e., healthcare, marketing, etc.), or if they can show that they've targeted their studies to fit the demands of the role they're looking to take on.
Here's some insider advice from Robert Chang, Data @Airbnb, "Instead of fixating on a single technique or programming language, ask yourself, what is the best set of tools or techniques that will help you to solve your problem? Focus on problem solving, and the tools will come naturally."
Interested in this promising career? Check out our data science fact sheet.
For a more comprehensive and in-depth look at additional emerging careers, get our free eBook with up-to-date information and useful charts to help you with your future career decision. If you're ready to start your journey toward a fast-growing profession with the right education and skills, we can help! At Pearson Accelerated Pathways, our academic advisors are experts at putting you on the right track to become qualified for your dream job. We help you to customize your college experience, choose your learning style, choose your pace, and study from anywhere. All you need is an internet connection. Learn more about our college planning process.